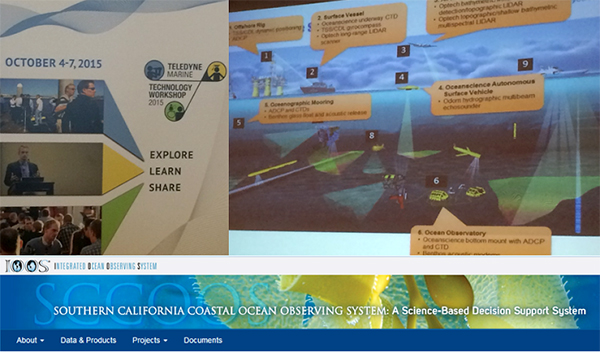 The Teledyne Marine Technology Workshop brought together 240 registrants and 120 Teledyne staff members to explore how they participate in the ocean observation space. The event was kicked off by Dr. Robert Mehrabian; Chairman, CEO and President of Teledyne Technologies who explained that Teledyne Marine's new "one team" approach encompasses the group's effort to provide a broader "sea of solutions" from sensors to vehicles to analytical tools and technologies. Over the last 10 years, the group has spent some $2.1 billion on acquisitions, incrementally expanding its offering to customers and end users.
My message to the group was threefold:
Ocean Observing matters to everybody, every day
Talk about the sector in terms of economic value
Encourage us to bring our voices together to be heard
See my presentation [TK].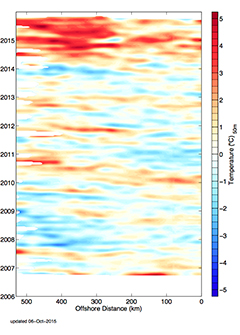 I then spent a day with Julie Thomas and her team at Southern California Coastal Ocean Observing System (SCCOOS). With El Niño predicted to be strong this year, the state of California and NOAA have both put together task forces to understand the impacts that El Niño will bring.
SCCOOS and NOAA's Climate Observation Division fund glider operations that monitor the sea surface temperature (SST) off the coast of California. Data from the glider is shown below.
SCCOOS demonstrated their 3-day flooding index page - covering 39 locations in the following counties: San Diego County, Orange County, Los Angeles County, Ventura County, Santa Barbara County. Further SCCOOS is engaging the public in a Citizen Science effort to assist with documenting energetic waves conditions during storms. With the predicted El Niño extreme wave conditions this winter, SCCOOS is creating an app that will allow the public to take a photo, geo-tag it (with location and date/time), and email it to our team. It will then be posted on their 3-day flooding index page. The intent is to correlate and quantify the wave heights at certain location with impact to the shoreline (structure damage, erosion, etc).