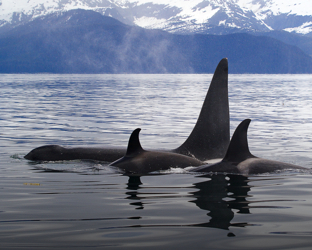 As the "eye on Alaska's coasts and oceans," AOOS represents a network of critical ocean and coastal observations, data, and information products that aid our understanding of the status of Alaska's marine ecosystem and allow stakeholders to make better decisions about their use of the marine environment.
Executive Director: Sheyna Wisdom
Point of Contact: Holly Kent, Director of Administration and Outreach, kent@aoos.org
About the Alaska Region
AOOS provides coastal and ocean observations, forecasts, and data information products that address regional and national needs for ocean information and ensure timely and sustained dissemination and availability of these data.
Activities that AOOS undertakes are as follows:
Expanding in-situ observations, with an emphasis on filling priority data gaps to provide the environmental intelligence needed to support response activities that improve public safety and safe maritime operations
Increasing weather, sea state and ecosystem observations and making these accessible to planners, forecasters, affected communities, and scientific and research groups
Continuing to build and leverage existing efforts to develop a complete integrated network of physical, chemical and biological observations
Establishing the AOOS Ocean Data Explorer as the regional Data Assembly Center for Alaska
Enhancing regional modeling efforts to expand coverage and complement existing regional and statewide model forecasting capability
Promoting greater awareness of the value of Alaska's coasts and oceans through enhanced stakeholder engagement and outreach programs
Sustaining a regional association management structure to continue supporting the integration and expansion of ocean observing activities and decision-support tools in Alaska
The Alaska Ocean Observing System (AOOS) is the regional association for three Alaska regional observing networks (Gulf of Alaska, Bering Sea/Aleutian Islands and Arctic) that are part of the U.S. Integrated Ocean Observing System (IOOS).