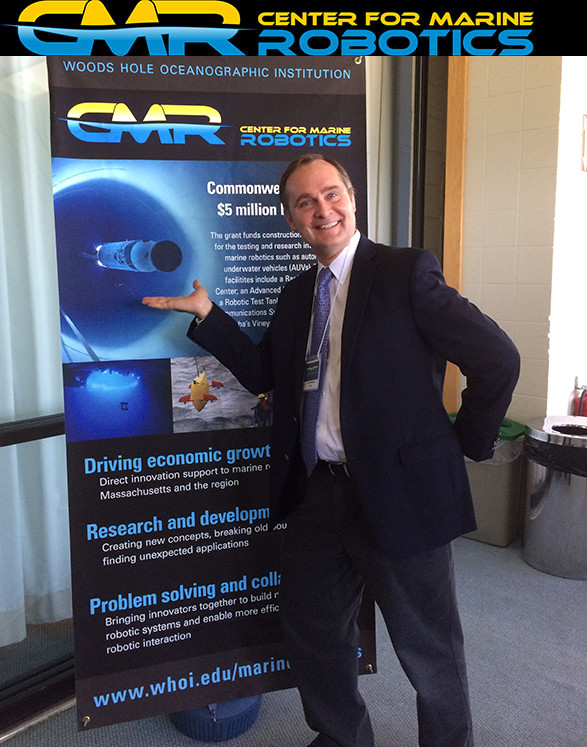 Dr. Jim Bellingham is the Director for WHOI's Center for Marine Robotics, whose mission is "to collaborate with industry sponsors, academic partners, and key government agencies to change the way people and machines work together in the marine environment."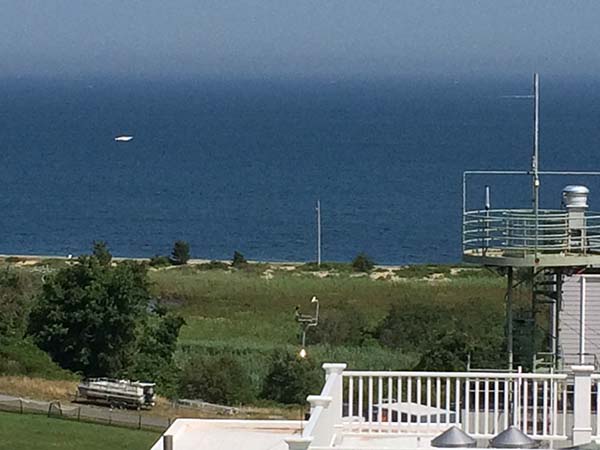 On a wonderfully sunny day on Cape Cod, we gathered for the 2nd Annual Marine Robotics Entrepreneurship Forum. Dr. Bellingham began the day with his Technology Inflections. His key points included:
Autonomous capability was pioneered by the underwater community – no GPS in the ocean
Breakthroughs are needed in mission configuration, perception, and onboard decision making and control
The current trend is to use multiple platforms (surface and underwater) to observe the underwater environment in ways that can't be done with one vehicle
We are still in explorer phase and tend to visit ocean 1 time, dipping in and out on specific missions. Robotics gives us the opportunity to build a persistent presence and expand our boundaries.
Dr. Dana Yoerger, WHOI, then kept the audience in awe with stories of his expeditions, including the 1985 discovery of the Titanic. Dr. Yoerger is a Senior Scientist at WHOI and a researcher in robotics and unmanned vehicles. He supervises the research and academic program of graduate students studying oceanographic engineering through the MIT/WHOI joint program in the areas of control, robotics, and design. Dr. Yoerger has gone to sea on over 70 oceanographic expeditions exploring the Mid-Atlantic Ridge, mapping underwater seamounts and volcanoes, surveying ancient and modern shipwrecks, and studying the environmental effects of the Deepwater Horizon oil spill. The biggest takeaway for me was how these survey missions drove so many technological advances in robotics.
We then began the first panel--Emerging Markets and Market trends. I was able to talk about The Ocean Enterprise study and my presentation can be found here [https://ioos.noaa.gov/ioos_whoi-entreprenship-forum/]. Other speakers representing alternative energy and aquaculture stressed the existing need for robotics. Jay Borkland, Apex Companies – "Alternative energy desperately needs robotics." Scott Lindell, WHOI, stated that the aquaculture industry needs a "Roomba" for to clean up cages.
This was followed by 12 industry flash talks. All spoke on different aspects highlights included:
Blue Robotics – they started with Kickstarter campaign!
Juice Robotics – they've built a prototype robotic vehicle that will have cameras. The motivation – to provide underwater filming during a surfing competitions to increase the spectator engagement.
Rip Tide has built an autonomous underwater vehicle for $10K. The lower cost opens up new opportunities for missions to acquire an autonomous vehicle, or increase their numbers.
Sea Machines makes a kit to convert a boat to run with an unmanned system – they just tested an unmanned ship towing an oil boom in Boston Harbor.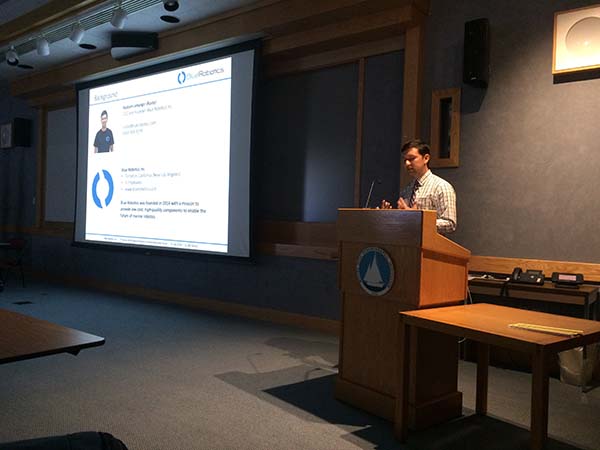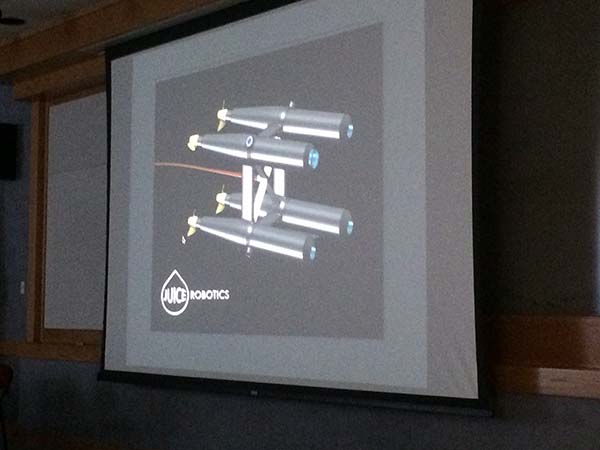 The key note speaker was VADM (Ret) Michael Connor, Founding CEO of Thayer Mahan. His talk focused on the challenges and opportunities of emerging defense robotics. His point echoes one of my messages – we need a cohesive voice. My point was about the often fragmented message, Michael's point was that the robotics community does not have the voice of the industry that builds ships and airplanes (yet!).
Ethan Butler, Bluefin Robotics, speaking as part of the low-cost vehicles panel, introduced one of their newest products – the SandShark – aka a marine robot that fits in a backpack!
The final panel was all about financing technology startups, which captivated the audience as the speakers talked about their own experiences in their own ventures. As all the entrepreneurs reading this story will appreciate – funding is difficult and the pathways are not always straightforward. When I asked how a government agency can help the answers were:
expand SBIR programs
fund innovation grants
make decisions on proposals quickly
Thank you to Dr. Jim Bellingham and Leslie-Ann McGee, WHOI CMR, for the invitation to participate in a great event.