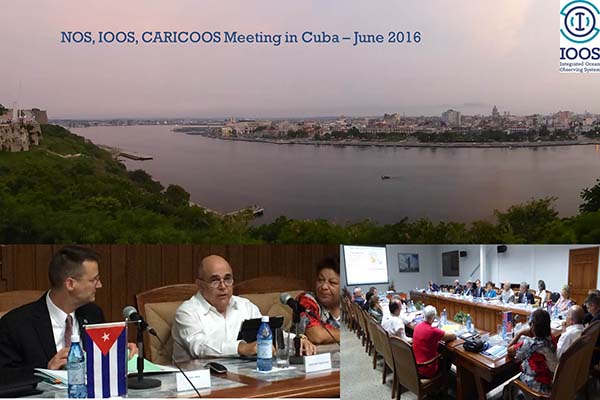 IOOS and CARICOOS joined the National Ocean Service (NOS) offices: Office of Coast Survey (OCS), Center for Operational Oceanographic Products and Services (CO-OPS), the National Geodetic Survey (NGS) and the Office of National Marine Sanctuaries (ONMS) for talks with the Oficina Nacional Hidrografía y Geodesia (ONHG), GEOCuba, Ministry of Science Technology, and the Environment and the Ministry of Foreign Affairs. NOS has signed two agreements with Cuba: an MOU to increase collaboration on hydrography and geodesy, signed by Ambassador DeLaurentis (for NOAA) with Cuba (ONHG) in Havana in March 2016; and an MOU between NOAA and Cuba's Ministry of Science, signed by Dr. Sullivan and her counterpart in November, 2015. The MOU established a sister-sanctuary relationship between Guanahacabibes and Banco de San Antonio in Cuba with Florida Keys National Marine Sanctuary and Flower Garden Banks National Marine Sanctuary in the United States to help better understand and conserve the interconnected ecosystems and address shared management challenges.
The NOS delegation was 12 strong with Zdenka, IOOS Director, joining RDML Gerd Glang, OCS Director; Julianna Blackwell, Director NGS; Rich Edwing, CO-OPS; and Julio Morell, Executive Director, CARICOOS. Katie Ries, OCS and Gonzolo Sid (ONMS) were significantly involved in NOAA's agreements and have been working closely with our Cuban counterparts. Admiration for their work was immediately seen by the remainder of our delegation, and we enjoyed the warmest of welcomes.
Our meetings took place in the salones del MINCEX in Havana, where we met the Cuban delegation and were welcomed by Dr. Cándido A. Regalado Gómez, Director of ONHG. This was followed by an overview of the Geodetic and Hydrographic Service of the Republic of Cuba. Dr. Regalado Gómez spoke about the development of geodesy in Cuba, it's current status and future projections. Gerd, Juliana, and Rich followed with presentations on their offices. On the morning of the second day, I kicked us off with a short presentation on IOOS, see presentation here. I was followed by Dr. Ramon Padrón Diaz on the development of hydrography in Cuba and projections.
From there, we split into two groups: charting, observing and special places in one group and geodesy in the other. Discussions were robust in all areas and we wished we had more time to explore ideas. The United States and Cuba will work to reduce the overlap in charting and exchange updates to charts. The exchange of tide data is important to both countries as the U.S. tide tables can now be updated with recent data.  NGS talked about exchanging CORS data, and Sanctuaries continued advancing discussions on best management practices.. For the ocean observing side, this was a new topic area and we explored a number of ideas that centered around modeling and exchange of data management best practices to allow for continued exposure of oceanographic data.
After this, it was time to get out of the salones and into the landscape.  We visited a the tide gauge station at Siboney, which is the primary station that others are referenced to in Cuba. It looked like the tiny house craze has taken hold, but really this was the housing for the tide gauge to protect it from the elements. The gauge had been out on the pier but that was destroyed during Hurricane Wilma in 2005. At the same location is a geodetic marker that allows for the Cuban spatial reference development. 
We were warmly welcomed at GEOCUBA where the geodetic team works and the nautical charts are made. This organization is highly decorated for their innovation and we were impressed by their efforts. The Director to GEOCUBA presented RDML Glang a historic print of Cuba as thank you for the nautical chart that NOAA presented to Cuba during their last visit. To acknowledge the efforts of Gonzolo Sid in the sanctuaries they presented him a modern chart of Cuba depicting their sanctuary.

https://cdn.ioos.noaa.gov/media/2017/12/Break-Bar.png
Cuba is rich in culture, and so we made time to take in a bit of history during our short visit. Nightly the cannons are fired at Historical Military Complex Morro Cabaña marked the closing of the harbor. The hotel National where we stayed is full of glimpses into the past, including bunkers built during the Cuban missile crisis. We had front row seats. We enjoyed a very nice dinner hosted by our Cuban colleagues and then with the exchange of thank you mementos our trips was over. The trip was too short but a great continuation of discussions for our charting, geodesy and Sanctuaries colleagues and what we hope is just the beginning of discussions with our observing colleagues.