IOOS Director Zdenka Willis Gives Keynote Talk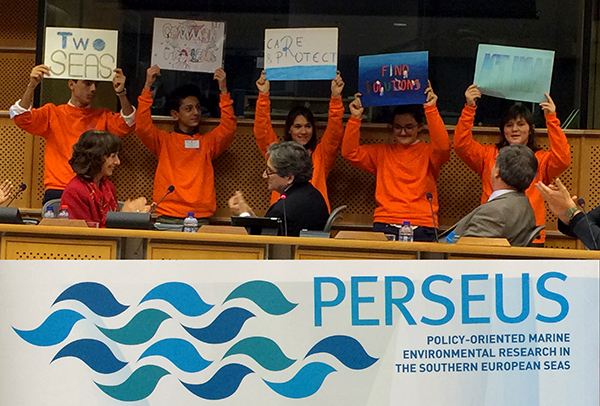 Policy-oriented Marine Environmental Research for the Southern European Seas (PERSEUS) is a research project that assesses the dual impact of human activity and natural pressures on the Mediterranean and Black Seas. PERSEUS merges natural and socio-economic sciences to predict the long-term effects of these pressures on marine ecosystems.
Zdenka was asked to give a keynote talk (download here). Her 2 key messages were (1) Ocean Observing matters to everybody, everyday even if they are not aware of this and (2) to reach policy makers we might need to cast our ocean observations in different terms. Storytelling is important in conveying the importance of ocean observing whether we are talking about food, commerce or disaster response. New concepts like sustainable development goals and natural capital accounting will require us to translate our data into formats that fit within those systems. One effort Zdenka highlighted was the work by Conservation International's Ocean Health Index, under the direction of Dr. Johanna Polsenberg, in their efforts to regionalize the Index.
There were a number of terrific scientific talks that spanned from ocean acidification to ocean monitoring to tools developed for policy makers. Early results show the Mediterranean is warming and freshening. PERSEUS funded an increase in both Argo and glider monitoring, revealing small scale structure not previously seen, and these data are now being used to improve the models. Argo profiles now exceed the total number of CTD casts. Gliders provide a window on observing entire water column with 200 gliders days and over 40,000 profiles through PERSEUS. This project helped Tunisia and Algeria to build capacity for sustained glider observations. There was a focus on understanding the biological, ecosystem processes and diversity in context with the physical oceanography. Some of the key outcomes include a Policy Briefing that can be downloaded at www.perseus-net.eu; a concept for an innovative research vessel; involving citizen scientists through a jellyfish spotting contest; a Tool for the identification and assessment of Environmental Aspects in Ports (TEAP); a multi-disciplinary approach to managing Atlantic Bluefin Tuna in the Mediterranean Sea; defining ecoregions of the Mediterranean and developing easy to use maps; and an adaptive marine policy framework and toolbox that is being translated into a number of languages.
Dr. Luis Valdes, invited speaker, ingeniously modified the periodic table to make sense of the many European Union (EU) and United Nations (UN) programs and structures. He noted there is huge gap at both the EU and UN on ocean governance and suggested an inclusive platform like the European Ocean Commission could play a leadership role. Dr. Valdes recommended a joint direction towards an integrated maritime policy/marine strategy; enhanced communication between the clusters to ensure a broad ecosystem focus and enhanced science-policy interfaces to shape actions at real European scale.
Ferdinando Boero from CoCoNet, invited speaker, spoke on the work they are doing with Marine Protected Areas. Did you know that the Habitat Directive lists 198 habitats but only 9 are marine? Dr. Boero made an interesting point that when we talk about marine habitats we should really be talking volumes not areas. CoCoNet defined natural unit of conservation value of a marine protected area. Good environmental status (GES); growth is Blue if GES is reached; MPA networks are the way to GES.
The next stop was to visit Glen Nolan, Director EuroGOOS; Erik Buch, Chair of the EuroGOOS Board, and the EuroGOOS team. The EuroGOOS team is relatively new so it was a good chance to get to know one another better and reflect a bit on the GOOS Regional Forum that took place in September.
The final day was the stakeholders meeting hosted by Ricardo Serrão Santos, MEP; Vice Chair of the Intergroup "Climate Change, Biodiversity and Sustainable Development" and Vice Chair of the Intergroup "Seas, Rivers, Islands and Coastal Areas of the European Parliament. The title of the program was "Policy-oriented marine research in the SES: Lessons Learned and the way ahead.
PERSEUS presented the outcome of their work which was congratulated by all. The best part of the day was hearing from the PERSEUS Ambassadors. The Ambassador program is a youth program where one student from each of the PERSEUS countries was chosen and trained/mentored by a PERSEUS scientist. Five of those students – George-Costin Dobrin (Romani); Umut Sidar Polat (Turkey); Alexandra-Maria Papageorgopoulou (Greece); Michaela Pia Camilleri (Malta), Violeta François Annick Wyns Rodríguez (Spain) provided their message to the Parliament ministers on topics such as invasive species, marine debris, eutrophication, jellyfish, and fisheries. These students, average age of 14, were well spoken and gave thoughtful and passion presentations. They also put together their own declaration which concluded with "The combination of Effective Policy Engagement along with Raising Citizens Awareness will contribute to the solution of the issues and we call policy-makers and the public to join forces for the healthy and clean seas of our future." WELL DONE to The Clean Seas Ambassadors.
In closing, I thank the PERSEUS project for giving me the chance to be a keynote speaker. It is clear that this effort was wide ranging and sought to bring the pieces of the puzzle together to advance the use of ocean observing, monitoring and knowledge to support sound policy making. It was also noted through the closing of the conference the importance science plays in diplomacy, the same sentiments voiced at the Group on Earth Observations Ministerial one month ago. I could not agree more – Science without borders is a noble cause.