Background
Biological diversity, or biodiversity, represents the variety of life on Earth, encompassing variation at all levels, from genes to species to ecosystems. A growing body of research demonstrates that maintaining coastal and marine biodiversity is critical for sustained human and ecosystem health in a globally changing environment.
Biodiversity is critical from the perspective of ecosystem services such as food, oxygen, and socio-economic benefits that support human livelihoods. The Census of Marine Life, which concluded in 2010, greatly enhanced our understanding of the status of marine biodiversity. It also made clear the importance of clear-cut, systematic and sustainable approaches to observing and monitoring biodiversity across different levels and at a national scale.
In May 2010, NOAA co-sponsored – with six other federal agencies and the National Oceanographic Partnership Program (NOPP) – a workshop of experts to develop a plan and recommendations for attaining an operational marine biodiversity observation network (MBON) for the nation. The full workshop report is available on the NOPP website or as a PDF.
In Fall 2014, NOAA, NASA, and BOEM – on behalf of the NOPP – launched three projects that are demonstrating how an MBON could be developed. U.S. IOOS, NOAA's Office of Ocean Exploration and Research, the National Marine Fisheries Service, and the NOAA National Marine Sanctuaries are partnering with NASA, BOEM and others on this effort.
Partners have created an MBON website to share project background and updates. In addition, partners established an MBON Data Portal at http://mbon.ioos.us/.
MBON partners in the U.S. are also contributing to development of a global MBON, working closely with the Group on Earth Observations Biodiversity Observation Network, the Global Ocean Observing System (GOOS), and the Ocean Biogeographic Information System (OBIS). The three groups signed a letter of agreement in Fall 2016 committing to coordination of a global MBON.
Developing MBON: Demonstration Projects and Partnerships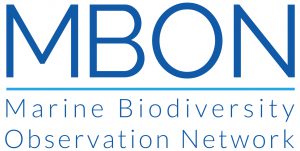 In October 2014, NOAA, NASA, and the U.S. Department of Interior's Bureau of Ocean Energy Management (BOEM) initiated the first U.S. network to monitor marine biodiversity at scales ranging from microbes to whales. Three demonstration projects are collaborating to provide a prototype of how a national marine biodiversity observation network could be developed. Selected through a competitive process from 19 proposals, the projects are working in multiple geographic areas, including the Florida Keys National Marine Sanctuary, the Monterey Bay National Marine Sanctuary; Santa Barbara Channel and the Channel Islands National Marine Sanctuary; and on the continental shelf in Alaska's Chukchi Sea. The projects are working in diverse marine environments to integrate data on large-scale sea-surface conditions with biological observations; integrate in situ with satellite data; explore use of new methods and technologies such as automated image processing and environmental DNA, and improve access to integrated biodiversity data.

The Florida Keys and Monterey Bay National Marine Sanctuaries, both encompassing deep sea, continental shelves, estuaries, coral reefs and other marine environments, will be the focus of one the Sanctuaries MBON project, led by Dr. Frank Muller-Karger, of the University of South Florida.

Dr. Robert Miller, of the University of California, Santa Barbara, leads the Santa Barbara Channel MBON, including in the Channel Islands National Marine Sanctuary. The sanctuary is home to an extremely rich array of marine species and is considered an ecologically significant place with tremendous biodiversity.

Dr. Katrin Iken, of the University of Alaska, Fairbanks, is leading the Arctic MBON, or AMBON, project in the Chukchi Sea. AMBON will build on recent efforts to extend much-needed long-term monitoring data and fill gaps in coverage. The Arctic is experiencing the most dramatic temperature increases taking place in the ocean, leading to significant changes in marine ecosystem structure and function.
Smithsonian has also joined the MBON partnership through its Marine Global Earth Observatory (MarineGEO), directed by the Smithsonian's Tennenbaum Marine Observatories Network (TMON). The project field sites include: the Smithsonian Environmental Research Center on the Chesapeake Bay; the Smithsonian's Indian River Lagoon, Fort Pierce, FL; Carrie Bow Cay in Belize; the Smithsonian Tropical Research Institute in Panama located at Bocas Del Toro on the Caribbean and the Naos station on the Pacific Ocean. MarineGEO Hawaiʻi on Kaneʻohe Bay Oahu was established by the Smithsonian Hawaiʻi Institute of Marine Biology (HIMB) and the University of Hawaiʻi at Mānoa.