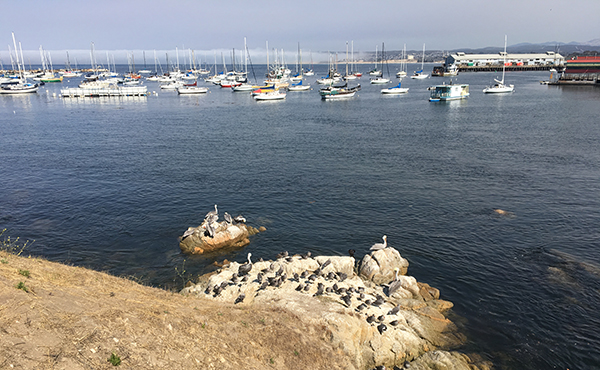 The U.S. IOOS team had a great time at this year's Oceans '16 conference in Monterey, California! It was a packed week filled with panels, town halls, and exhibits--all with the backdrop of Monterey Bay, a thriving marine community, and hundreds of barking sea lions.
Once again, the IOOS exhibit co-located with the main NOAA booth. More space for us both and a fantastic opportunity to show our connection to our lead agency. We had a lot of great foot traffic, and a ton of questions about IOOS and our hands-on exhibits: a slocum glider; a Codar Sea Sonde (complete with mini-antenna!); a marine mammal tag; and a Global Ocean Design nanolander!
Wednesday was a highlight for the IOOS team as we hosted two town halls at the conference. High atop the Monterey Bay Marriott with a stunning 360 view of town and the Bay, experts and guests gathered to discuss the developing technology and emerging business opportunities in the blue economy.
First up, IOOS teamed up with the Monterey Bay International Trade Association (MBITA) to discuss Blue Silicon Valley--public and private perspectives on new developments and business opportunities emerging from the marine science community of Monterey Bay, offering new ways to interact with industry and environment in effective, conscious ways. Ocean information is a knowledge-based field, not extractive, and the combination of existing tech talent and industry plus a long history of working in and with oceans and coasts makes the Monterey Bay region particularly well suited to make significant contributions in this developing field--we're just looking for all the ways we can collaborate. Panelists Dr. Richard Spinrad (Chief Scientist, NOAA) and Jen Patterson (Information Technology, CeNCOOS) both expressed the availability of open data (NOAA collects in the realm of 20TB a day!)--let's find ways to make it better, and to make it work for existing needs.
After lunch a new group convened for the Ocean Innovations panel--a fast-paced 90 minute sprint through new technologies emerging in ocean exploration and research. We got the skinny on the Nanolander (there were 3 on display at the conference!), SAAB's deep sea submersibles, Harris' Satellite Automated Identification systems, and Xylem's handheld sensors. We also pushed into outreach and research opportunities, such as the Discovery Yacht program from Sea Keepers, incorporating glilders into the classroom to invest students, and hearing from NOAA offices about working to overcome obstacles in deep sea exploration. The lively Q&A afterwards reflected the high level of interest, and emphasis was put on: finding ways to engage students of all ages in ocean research and technology; raising the stakes in partnerships so that everyone is equally invested in the outcome; and working with new funding models that comprise multiple parties across a spectrum and over time rather than a single main investor.
Check out all the presentations here!
Back at the program office, we're already planning for Oceans '17 in Anchorage. We hope to see you there!